A fog route planner has been released by the National Highway and Motorway Police as the thick fog obscures several cities in Punjab. In addition to disrupting daily life, severe weather has also slowed down air and road transportation.
At Allama Iqbal international Airport, flight operations are impacted. The route designs have been destroyed by zero visibility on national highways and motorways. The drivers are urged to utilize GT Road the highway police. Additionally, Grand Trunk (GT) commuters have had issues due to the fog.
Listed below is a fog travel planner.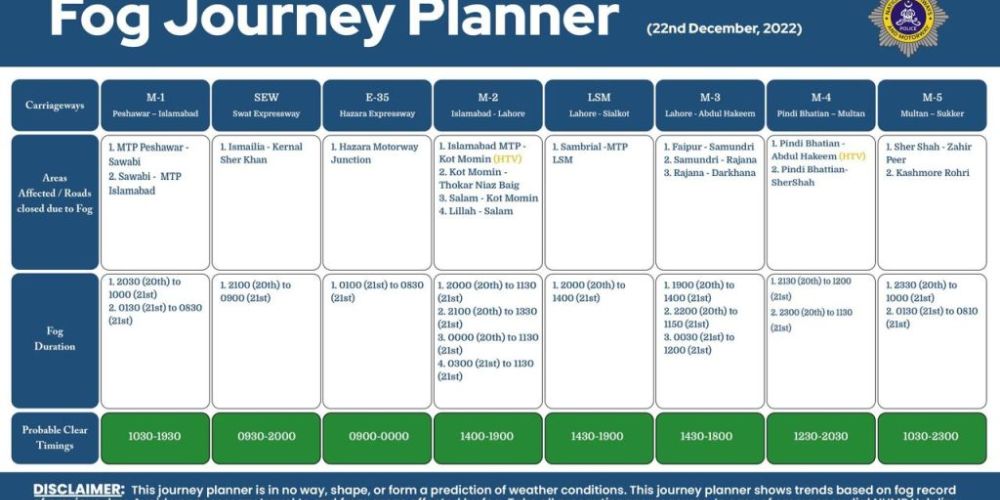 Dr. Asad Malhi, the chief traffic officer, has urged the public to drive on highways and motorways with additional caution and safety precautions. In response to the heavy fog, he said that the number of traffic wardens had been raised.
Tips for Driving in Poor Visibility
Follow the radio and TV news to get the most recent weather information.
Click here for information on major highway and motorway conditions as reported by NHMP. Travel Warning
Follow National Highway Motorway Police on Twitter for updates.
Avoid driving while distracted. It's risky when driving even under ideal conditions, therefore the risk is only increased in foggy situations. It's not okay.
All passengers in the car, including those in the back seats, are required to use seat belts to restrain themselves. Regardless matter the weather, this is a MUST.
Try to stay away from the road while it's foggy. A dangerous meteorological condition, fog is not a nice circumstance. Plan your travel properly as you are aware that it is foggy in the evenings and early in the mornings.
Please proceed cautiously. The road is wide open because many believe they are on an expressway. The road is open and clear, sir, but you lack radars and autopilot. This is the main cause of the serious collisions and car pileups you see every year.
Make sure the external lighting on your car is fully functional. Taillights and headlights. Utilize your fog lights as well. FOG lights are advised for the front and back. Use of any light fixtures with a dazzling impact on vehicles behind should be avoided.
Please utilize your low beams when driving. High beams will just make you blind as they reflect off of the fog.
We'll reiterate that HID in your cars will make it even harder to see because the scattered light from your headlights will bounce in all directions and reflect off of the fog, producing a white screen in front of you.