PTI: Mohsin Leghari 90,392 , PMLN: Ammar Leghari 55,218
The counting of ballots started on Sunday after voting for the NA-193 National Assembly seat in Rajanpur was completed.
The NA-193 seat became available after PTI's Sardar Jaffar Khan Leghari passed away in December 2022.
There will be a total of 11 candidates in the by-election today. However, it is believed that the race between Mohsin Leghari of the PTI and Ammar Leghari of the PML-N would be close.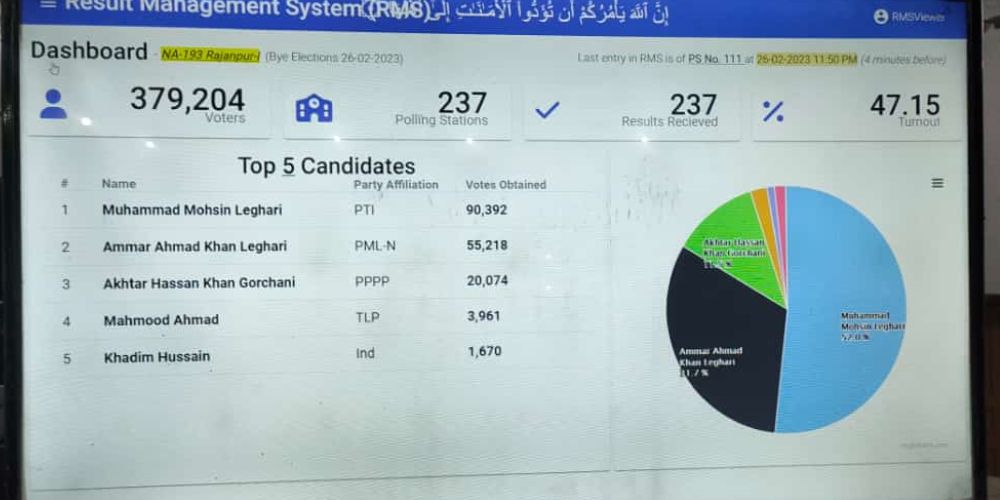 Imran Khan, the leader of the PTI, had previously been suggested as a candidate. However, the former prime minister announced his withdrawal from consideration earlier this month, allegedly to avoid being potentially disqualified owing to the Tyrian White controversy.
Rajanpur's polling for today lasted from 8am to 5pm.
The Election Commission of Pakistan (ECP) noted that there were numerous women present at various polling locations as voting got underway. It was argued that the civic obligation of voters was a positive development.
According to the ECP, there are 379,204 registered voters in the constituency, 206,497 of whom are men and 172,709 of whom are women.
The commission reports that 237 voting locations have been set up in the district. It was said that more than 200 Punjab Rangers are also employed as a quick response force.
In videos that the election commission has made available today, voters can be seen gathered inside polling locations.