Practically all women are sick of keeping track of how much hair they lose every day, and hair loss is a serious issue. Other scalp issues like dandruff, balding, thinning hair, and going grey often coexist with hair loss.
Pollution is the main culprit because we are constantly exposed to it, despite our best efforts to preserve our hair by scraping it or using heat protectants. It keeps on getting hurt, and over time it starts to lose its former luster. In addition, water is a significant issue because it harms hair growth by removing its natural oil and making it brittle.
You can also get thin, lifeless hair from using hard, dirty water. We can take additional care of our hair by using natural and homemade solutions to prevent hair loss and damage even though we have no control over pollution. Visit the bottom to find out.
Onion oil is an effective way to encourage hair growth and stop hair loss. This is a well-liked Ayurvedic technique to promote thick, healthy hair. All that is needed is a steadfast commitment to applying this hair oil every day. In addition to using this amazing hair oil, keep in mind the importance of consuming a well-rounded, nutrient-rich diet.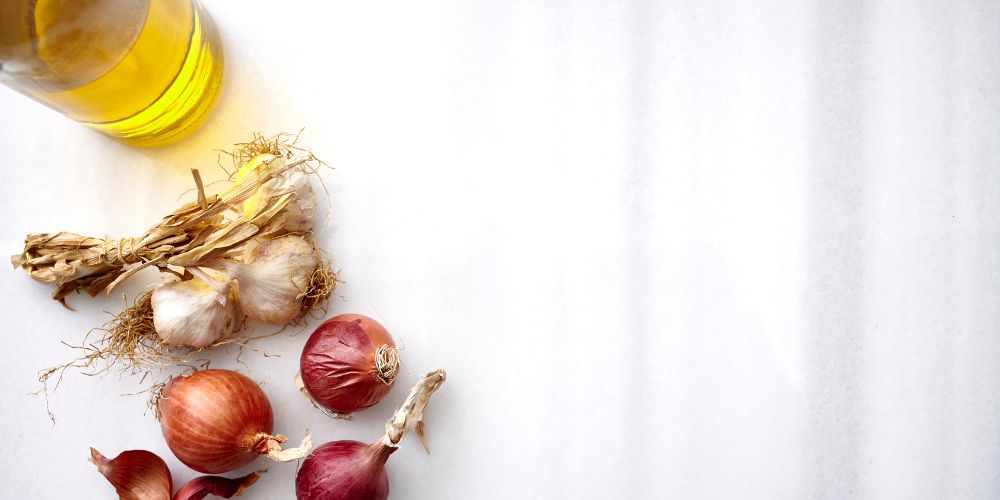 The history of onion oil
From ancient times, onion oil has been used as a home treatment for a variety of illnesses. Onion oil was used to cure respiratory ailments, headaches, and colds in ancient India and Egypt. In the Medieval Ages, baldness and hurting joints were treated with onion oil. In more recent times, eczema, psoriasis, and acne have all been treated using onion oil. Moreover, it has been utilized to enhance circulation and lessen inflammation. Moreover, it is rumored to possess antibacterial and antifungal qualities, which could aid in infection prevention.
benefits of using onion oil
Because of the presence of antioxidants in onion juice, several enzymes that work together to stop hair loss perform better. This makes onion juice more effective at enhancing the hair-growth cycle.
It is a wonder oil that promotes hair growth. Onion oil can effectively treat and prevent baldness when applied frequently.
Onion oil's sulfur aids in preventing hair breakage, split ends, and thinning. Onions also contain additional nutrients that prevent hair oxidation. Also, it prevents early greying by maintaining the pH of the hair at a normal level.
Also, the sulfur in onion juice improves the condition of your hair follicles while providing your hair with the nutrition it needs.
It hydrates your scalp and improves blood flow, which encourages the growth of thicker, stronger hair.
Onion oil can effectively promote hair growth in that area and prevent bacterial infections and dandruff by being applied frequently.
Onion oil can help if you wish to lengthen your hair. It is an affordable solution that will promote quick hair growth while making your hair thicker and healthier.
To maximize the benefits of the hair oil, onion oil can be mixed with any carrier oil, such as coconut or olive oil. You may rely on onion oil to provide you with healthy, lustrous hair.
Use onion oil as a conditioner to hydrate your scalp before shampooing. It functions as a natural conditioner to prevent frizz and dry hair.
How to use onion oil on the hair and scalp:
Making your homemade juice from small onions is the simplest approach to guarantee that you receive the straight advantages of onions without any additional chemicals. To treat baldness, place a few drops of onion oil in your palm and massage the scalp for at least 15 minutes. Wash the oil out of your hair with organic shampoo after allowing it to sit in your hair for a few hours. Every two days, repeat the process to see results right away. By combining onion oil with any of your preferred carrier oils, such as raw coconut oil, you can take advantage of onion oil's dual advantages.
How does it work properly?
In addition, it fights bacteria and fungi while reducing dandruff and moisturizing the scalp. Moreover, it might lessen hair loss and encourage hair growth.
How to use it?
Onion oil can be applied topically or combined with other oils like coconut or olive oil. Before rinsing it off, massage the mixture into the scalp and let it sit there for 30 to 60 minutes.
Onion oil Recipe
Ingredients: 10 drops of lavender essential oil, 1/2 cup castor oil, 1/4 cup apricot kernel oil, 2 tablespoons jojoba oil, 2 tablespoons olive oil, 2 teaspoons apricot kernel oil.
ten drops of the essential oil of rosemary
ten drops of essential cedarwood oil
ten drops of essential lemon oil
Instructions:
1. Mix castor oil, jojoba oil, almond oil, olive oil, and apricot kernel oil in a bowl.
2. Add the essential oils of lemon, lavender, rosemary, and cedarwood, and to taste.
3. Combine all of the ingredients by thoroughly blending them.
4. Transfer the oil mixture into a bottle and keep it in a cool, dark location.
5. To use, gently massage the scalp with a few drops of oil. Before shampooing it off, let the oil sit on for at least 30 minutes.