According to WaBetaInfo, WhatsApp, which is owned by Meta, is developing yet another incredible feature for its users that would let them send video messages to their contacts.
The instant chat software is updating to version 23.6.0.73, says the website that analyzes programs. A later version of the iOS app will include the new capability.
Video messaging is a feature that is still under development and not yet available.
Users will be able to make and distribute quick films up to 60 seconds long to their contacts using this functionality and the camera button. Users now have a new method of communication with their friends and family thanks to this functionality.
According to WaBetaInfo, "Video messages on WhatsApp will function similarly to voice notes, with the added benefit of capturing and sharing video content."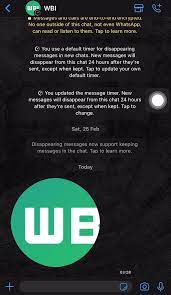 Compared to sending a voice message or text, video messages allow you to express your feelings and expressions more effectively.
Sometimes sending a text message or voice note could be preferable to using this tool. This feature can be used by a user to visually demonstrate how to utilize a new product or explain anything.
In instances like this, video communications can improve communication in more ways.
The privacy of its users is always guaranteed by WhatsApp, and the video messages will likewise be end-to-end encrypted. Your messages would be end-to-end encrypted so that nobody could read them, even the app.
In order to increase privacy, it won't be possible to save or send video messages to other discussions, but screenshots will still be permitted, according to the app-tracking website.