According to the News, Pakistan has seen a substantial decrease in petrol prices, down by more than Rs 40 per liter.
According to a notification from the Oil and Gas Regulatory Authority, petrol has decreased by 40 rupees per liter to reach Rs 283.38 per liter.
High-speed diesel (HSD) is now priced at Rs 303.18 per liter, a reduction of Rs 15. Kerosene oil prices, meanwhile, decreased by Rs 22.43 per liter to Rs 214.85.
After a two-month price increase, of petrol in Pakistan dropped by Rs 8 per litre on October 1 and was set at Rs 323.38 per litre.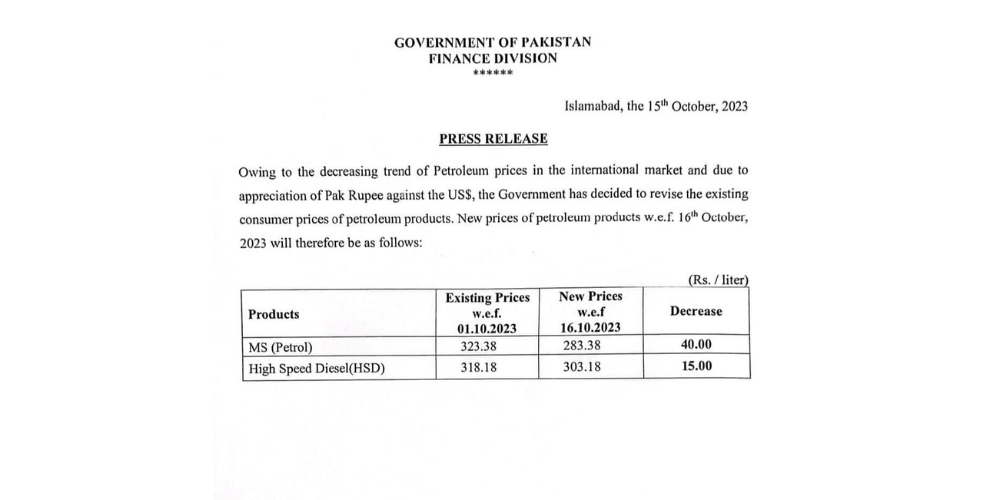 Details show that the price of petrol dropped by Rs 8 per liter to Rs 323.38 per liter.
High-speed diesel (HSD) prices dropped by Rs. 11 per litre to Rs. 318.18 while Kerosene prices decreased by Rs. 7.53 per litre to Rs. 237.28.
It is pertinent to note that the administration drastically raised the price of petrol and diesel on September 15 while making grand claims to relieve the suffering of people everywhere.
The price of petrol has increased substantially, going from Rs26.2 to Rs331.38 a liter. In addition, the price of diesel was increased by Rs17.34, making the new per-litre cost Rs329.18.
The caretaker government increased the cost of petrol and diesel by Rs. 58 and Rs. 56 per liter, respectively, within a month.