After losing a total of $1,685 million over three weeks, the foreign exchange reserves held by the State Bank of Pakistan (SBP) reversed course. After growth of nearly 9%, the reserves surpassed $3 billion once more, although they are still only enough to support one month's worth of imports.
The SBP held $3,192.9 million in foreign currency reserves as of February 10, up $276 million from $2,916.7 on February 3, according to a statement from the central bank.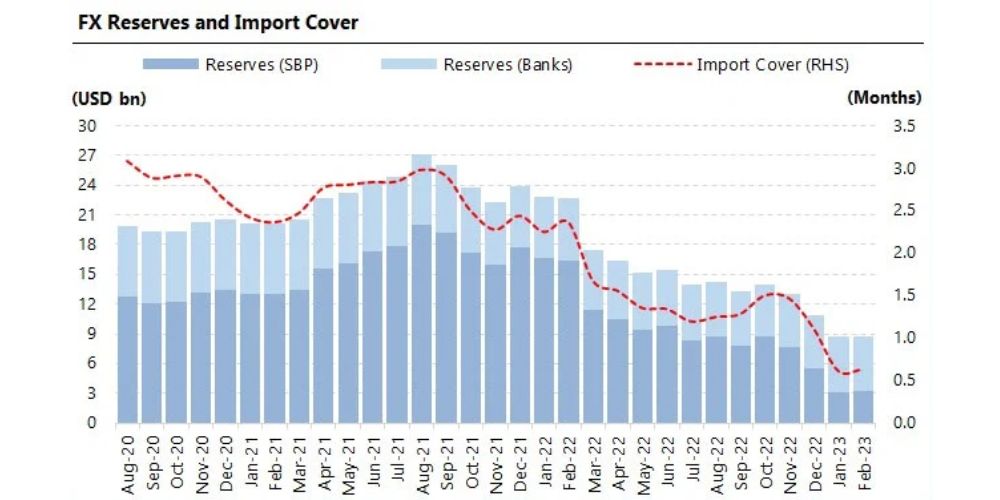 The statement stated that the net foreign exchange reserves held by commercial banks are $5,509.3 million, which is $2,316.4 billion greater than the SBP, bringing the total liquid foreign reserves of the nation to $8,702.2 million. The increase in SBP-held reserves was not specifically explained by the central bank.
Pakistan is looking forward to receiving the critical loan tranche from the International Monetary Fund (IMF), which would open up new financing options for Pakistan.
The government had imposed a total import restriction, except for very necessary goods like food and medicine, due to its severely low US dollar reserves, until an IMF lifeline bailout was reached.
Pakistan's economy is in a terrible state and is experiencing a balance-of-payments problem as it tries to pay off a sizable amount of external debt amidst political unrest and deteriorating security.
The country can no longer afford imports as a result of skyrocketing inflation, the devaluation of the rupee, and a serious collapse in the sector.
A backlog of imports of raw materials that the country can no longer afford has arisen from the fifth most populated country in the world ceasing to issue letters of credit, except for necessary food and medicine.
The blockage and rupee devaluation together have led to a sharp fall in building projects and manufacturing, particularly steel and textiles.
The government hopes that the IMF cash infusion will increase trust and open the doors for friendly countries like Saudi Arabia, China, and the UAE to give future loans, even if it will not be enough to save Pakistan on its own